Beers With Engineers
Wednesday, January 11
5-7pm
Rogers Liquid Oasis at the Edgewater Public Market
Starting Wednesday, January 11th, NSPE-CO is hosting a monthly happy hour to meet and interact with other NSPE-CO members. We'll provide some appetizers from the many food vendors at Edgewater Public Market. Beers (or other drinks) are available for purchase.
Beers With Engineers is a monthly happy hour (the second Wednesday of the month) at
Edgewater Public Market
, 5505 W. 20th Avenue (20th and Depew) just four blocks west of Sheridan Blvd. There is easy highway access to Sheridan Blvd from both I-70 and 6th Avenue.
There is ample free parking. Rogers Liquid Oasis is to the right inside the main entrance. We'll be there from 5 to 7pm. Call NSPE-CO at (303) 480-1160 if you have any difficulty finding us!
No registration or RSVP required.
Denver International Airport (DEN)
DEN Concourse Expansion Tour
8500 Peña Blvd, Denver, CO 80249
Tuesday, January 24, 2023 1-3:30pm
Following the tour, join us at Tivoli Taproom adjacent to the airport. NSPE-CO will provide appetizers and soft drinks. Other drinks available for purchase.
Registration for this event has closed. Due to DEN security protocols, advance registration is required. There is a strict registration deadline of Tuesday, January 10, and all required information on the registration form must be provided.
| | |
| --- | --- |
| | |
| | |
The Jeppesen Terminal was originally designed to accommodate 50 million passengers, but in 2019, DEN served 69 million passengers. DEN is quickly recovering from the pandemic and is expected to serve approximately 70 million passengers in 2022 and reach 100 million passengers in approximately 10 years.
Concourse Expansion Program Overview
The Concourse Expansion Program adds 39 new gates to the airport. For perspective, this expansion
alone is bigger than Ronald Reagan International Airport in Washington D.C.!

The 39 new gates are spread out over all three concourses – A, B, and C – and increase the airport's
overall capacity by 30 percent. DEN broke ground on the Gate Expansion Program in May 2018. The first
completed area (B West) opened in November 2020, and the most recently completed area (A West)
opened in November 2022.

Scopes of Work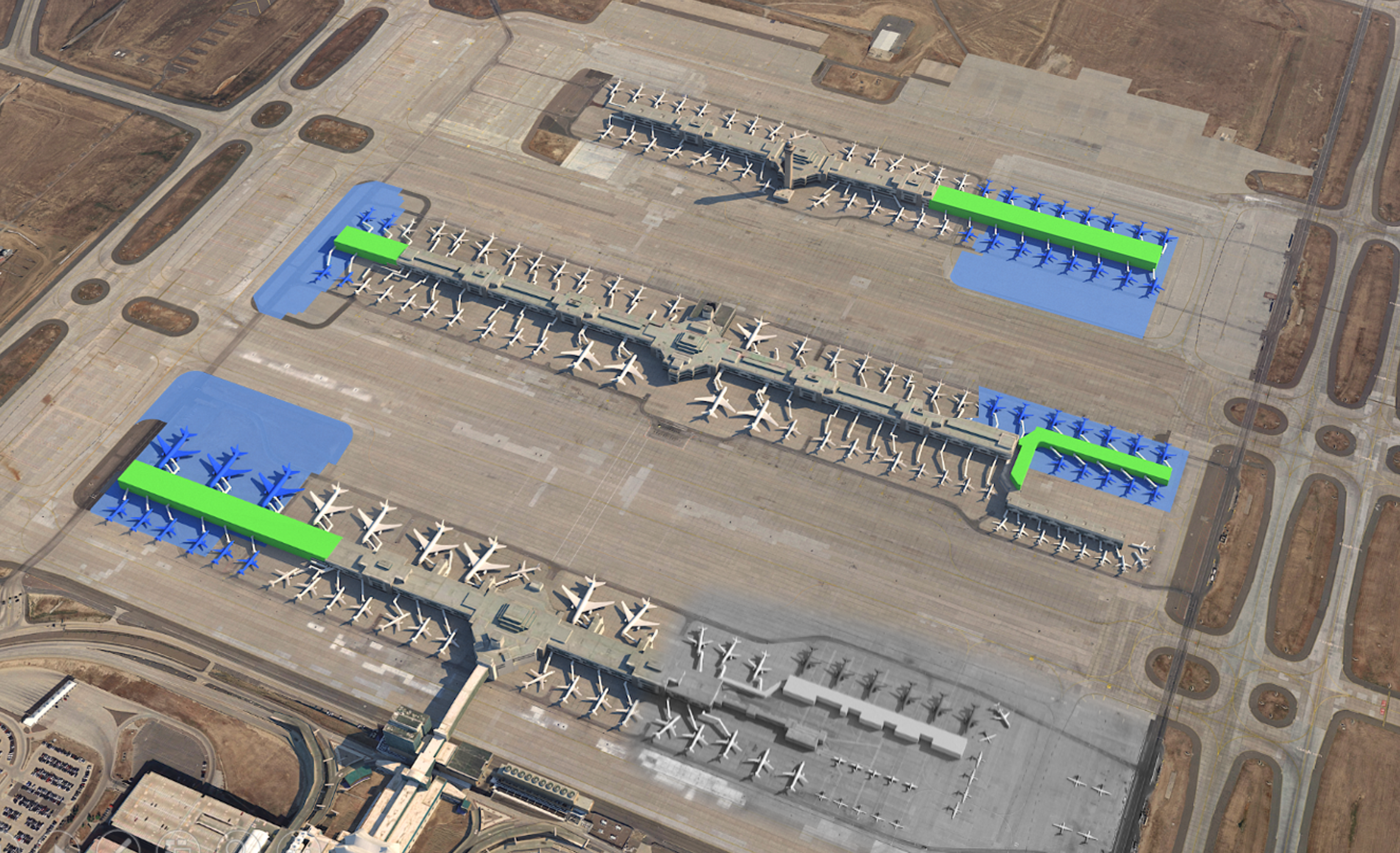 B West: The first of four primary projects completed in the overall program, B West is the left side of
Concourse B. DEN added four narrow-body gates and six seating areas, and a modern de-icing facility
that serves as both a de-icing station for aircraft and a fill-up station for truck-based de-icing operations.
United took all four gates as part of their 22-gate increase when B West opened in November 2020.
Project Team Leaders: HNTB (Design) and Turner/Flatiron Joint-Venture (Construction)

C East: On the east side of Concourse C, DEN added approximately 530,000 square feet of space that
encompasses 16 narrow-body gates and 20 holding rooms/seating areas. Southwest took those gates in
May of 2022 when the area opened to the public. Also included in this segment is a commuter facility,
focused on airlines serving regional airports across the Great Plains and Rocky Mountain regions. Project
Team Leaders: Jacobs (Design) and Holder/FCI Joint-Venture (Construction)

B East: On Concourse B, the configuration splits into two fingers on the east end. Here the north finger
was demolished and rebuilt to provide seven narrow body gates and five regional aircraft gates. The
replacement area is approximately 120,000 square feet and opened in October 2022. United uses these
gates. Project Team Leaders: Jacobs (Design) and Holder/FCI Joint-Venture (Construction)

A West: On the West side of A, DEN added some 530,000 square feet of space, by far the largest of the
four segments. Here 12 narrow-body gates, 16 holding/seating areas, and a similar de-ice system to B
West opened to the public in November 2022. In this segment, DEN also accounted for the capacity to
increase international arrivals of wide-body aircraft. By building in flexibility, DEN can convert two
existing narrow-body gates into a single wide-body gate to accommodate future United flights arriving
from Europe. Project Team Leaders: HNTB (Design) and Turner/Flatiron Joint-Venture (Construction)

A East Ground Load Expansion: The expansion of the Ground Load facility was not part of the original
program. However, following a new lease with Frontier Airlines earlier in 2022, the facility will be
expanded to add 5 gates for a total of 14. The expansion is scheduled to be complete in mid-2024.
TOUR CLOTHING REQUIREMENTS: Flat, closed toe shoes (no high heels or sandals), pants (no dresses or skirts), and sleeves. PPE will be provided.
IF YOU HAVE A STEM BACKGROUND PLEASE CONSIDER SIGNING UP TO JUDGE OR VOLUNTEER FOR FUTURE CITY COLORADO.
THE REGIONAL FINALS WILL TAKE PLACE ON SATURDAY JANUARY 21st, 2023, AT THE COLORADO SCHOOL OF MINES – GREEN CENTER
This year, teams will address climate change. They are expected to choose a climate change impact and design one innovative and futuristic climate change adaptation and one mitigation strategy to keep their residents healthy and safe.
Registration is available online at www.futurecity.org/register. Make sure you select the Colorado Region
Late December – Early January
Regional Competition Judge:
City Essay – no more than 1500 words
5-10 hours (virtual)
Using a provided rubric, you will evaluate 1,500-word essays that describe teams' future cities as well as their solutions to this year's challenge.
Early January
Regional Competition Judge:
Project Plan – 4 Parts
1-5 hours (virtual)
There is no rubric for the Project Plan – you score on a rating of 0 to 10.
Saturday 21st, January 2023 - Colorado School of Mines
Regional Competition Judge:
Model and City Presentation/Q&A - Teams present a 7-minute talk about their future city and their solution to the challenge.
In person - 8 am check in.
Using provided rubrics, you can evaluate the students' scale model of their city, and their oral presentation/Q&A about their city and solutions to this year's challenge.
Saturday 21st, January 2023 - Colorado School of Mines
Volunteers are needed to check people in, aid as room monitors and timers, and monitor the teams.
All day.
Bridge Building
The 2022 Bridge Building Competition Results
Nearly 120 bridges were submitted and tested.
The top three finishers in each of Colorado's two regions:
1st Place
Dirk Patton - Ponderosa High School

Efficiency = 3,284
Colton Osburne - Rampart High School

Efficiency = 2,730
2nd Place
Clara Griffith - Ponderosa High School

Efficiency = 2,458
Rosa Richards - Canon City High School

Efficiency = 2,300
3rd Place
Jaxson Pagano - Ponderosa High School

Efficiency = 2,456
Hezekia Kies - Canon City High School

Efficiency = 2,085
Winners in each region receive a $500 check and a $1500 scholarship for enrollment at an accredited college or university. The Region I prize is provided by the NSPE-CO Education Foundation. The Region II prize is provided by ACEC Colorado's Foundation.
Get more information on the Competition here. Watch a recording of the competition here.
MATHCOUNTS
Due to Covid-19 concerns, MathCounts is functioning is a hybrid competition format for the 2022 competitions, as follows:
The Chapter Competition was conducted on-line on February 17, 2022 and the State Competition in person on Saturday, March 12, 2022 at the University of Denver.
All participants, coaches, parents, and volunteers for the State Competition must be pre-registered to attend and follow University of Denver Covid-19 protocols in place at the time. The current protocols require attendees to provide proof of covid vaccine or negative covid test.
The National Competition was in person May 7 to May 9, 2022 in Washington D.C.
NSPE-CO Ethics Presentation:
Implicit Bias: Definition, Examples and Best Practices
Thank you to everyone that participated in this program, and thanks to Professor Eli Wald who presented.
What is implicit bias? How does it impact our decision making and conduct? What can and should engineers do about it? In this presentation, Professor. Eli Wald from the University of Denver offered a definition, provided examples drawn from the day-to-day experiences of engineers, and discussed best practices. T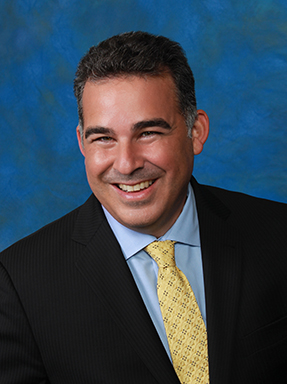 Eli Wald is the Charles W. Delaney Jr. Professor of Law at the University of Denver Sturm College of Law. A legal ethics and legal profession scholar, Wald has written on topics such as increased lawyer mobility, conflict of interests and attorney disqualification, lawyers' fiduciary duties to clients, the nationalization and globalization of law practice, the challenges facing lawyers representing clients in the emerging marijuana industry and, most recently, in-house lawyers. Professor Wald is a co-author of a leading casebook on the law governing lawyers. His work has appeared in leading journals such as the Fordham, Stanford, University of Colorado and Wisconsin law reviews, and the Georgetown Journal of Legal Ethics. Wald's articles have been cited in ABA ethics opinions and excerpted in legal ethics casebooks.
How Can You Help The Fire Victims?
Our thoughts and best wishes go out to everyone impacted by the fires that ravaged Louisville, Superior and other nearby communities.
One of the best ways to help now is financial support. Here are several links to donate to assistance programs:
Congratulations Ben Railsback, P.E., F-NSPE
NSPE-CO Past State President and current House of Delegates delegate Ben Railsback. P.E., F-NSPE has been elected Regional Director of the NSPE Southwest Region. The Southwest Region includes Colorado, Wyoming, Texas, New Mexico, Oklahoma, New Mexico and Arkansas. Ben was one of three candidates for the position. As Director, Ben will serve a two year term (2021-23) on the NSPE national Board of Directors and will convene Southwest Region meetings. Congratulations Ben!
NSPE-CO Awards
The NSPE-CO Awards honor excellence in Engineering in Colorado, as well as educators and students. Due to the pandemic, the awards have been [postponed until 2022. Stay tuned for information on the NSPE-CO Awards!
Threats to Licensure in 2018 (Archive)
Two bills under consideration this legislative session threaten the licensure of Professional Engineers in Colorado (as well as other licensed professions). NSPE-CO has been monitoring these bills and working to defeat them. Licensure of professional engineers is critical to protecting the health, safety and welfare of the public. The practice of engineering is not a right but is a privilege granted only to those who hold the proper qualifications. Licensing boards and governing jurisdictions are necessary to regulate the profession. BOTH BILLS LOST IN COMMITTEE DURING THE LAST FULL WEEK OF THE LEGISLATIVE SESSION.
SB18-193 Limit State Agency Occupational Regulations was called The Right To Earn A Living Act. The bill would prohibit state agencies from imposing a personal qualification requirement in order to engage in a profession or occupation unless the agency can show that the requirement is demonstrably necessary and narrowly tailored to address a specific, legitimate public health, safety, or welfare objective. The bill would have required that prior to July 1, 2019 all state agencies review the regulations promulgated or administered by that agency and that any regulation not meeting the specific criteria in the bill be repealed. SB18-193 passed the Senate, but lost in committee in the House on Wednesday May 2nd. You can read the text of SB18-193 here.
SB18-236, Least Restrictive Regulation Professions and Occupations has many similarities to SB18-193, though it generally does not address health safety and welfare of the public (except for the cleanliness of facilities). The bill requires the department to find present, significant, and substantiated harm to consumers before recommending regulation. The bill further requires the department to recommend only the least restrictive regulation necessary to address the harm. Licensing is only allowed after other least-restrictive options including market competition, third party and consumer generated reviews, private certification and bonding.
This legislation requires the Department of Regulatory Agencies to presume that consumers are sufficiently protected by market competition and private remedies, and to create occupational regulations only where the department finds credible evidence of a present, significant, and substantiated harm to consumers. This represents a fundamental shift from the current system of licensure which has long protected the citizens of Colorado. Read the text of SB18-236 here.
NSPE-CO is the interdisciplinary professional engineering organization dedicated to supporting members in the ethical and professional practice of engineering, preserving the health, safety and welfare of the public while promoting the growth and development of the profession.

Colorado's Michael Aitken, P.E, F.NSPE Completes Service on NSPE National Board
Michael E. Aitken, P.E., F.NSPE served as the 2018–2019 President of the National Society of Professional Engineers (NSPE). He is the first Colorado Professional Engineer to lead the national society. He completed service on the national board as Immediate Past President in July 2020. We thank him for his service!
He is a mechanical engineer with more than 25 years' experience in the fields of engineering, project management, property condition inspections and expert witness testimony. He is currently the Vice President of MEA Consulting Engineers which he founded with his wife in April 2000.
Long active in both the National Society of Professional Engineers and its state affiliate, NSPE-Colorado, Mr. Aitken he has been president of NSPE-Colorado and a member of NSPE's Board of Directors, House of Delegates, Budget & Finance Committee, Audit Committee, and PE Conference Task Force. In 2016 he was named a NSPE Fellow.
Mr. Aitken received his BS in Mechanical Engineering Technology from the Metropolitan State College in Denver and is registered as a Professional Engineer in 28 states. He has also attained LEED® AP O+M certification, the recognized standard for design sustainability. Michael is a Certified Commissioning Authority through the AABC Commissioning Group.
Mr. Aitken volunteers as a coach and mentor with FIRST Robotics and the FIRST Lego League to encourage elementary, middle and high school student to pursue a career in engineering. He also mentors college students and young engineers on the value of engineering licensure and the importance of giving back to their profession. Aiken was recognized at the 2018 NSPE-CO Awards with "the Gene Burdick Award."
NSPE-CO Education Foundation
The NSPE-CO Education Foundation is a 501(c)(3)
Organization, supporting engineering and scientific
educational activities of the National Society of
Professional Engineers—Colorado, including Bridge
Building for high school students, MATHCOUNTS
for junior high school students, and other
educational programs and scholarships.
Congratulations to the participants in the High School Bridge Building Contest!
About Bridge Building:
The annual Model Bridge Building Contest is a statewide program aimed at providing interaction and communication among practicing engineers, high school students, and other professionals. Its underlying objectives are to enhance the appeal of engineering careers to high school students, begin establishing their relationships with the professional community, and improve the prospects that such careers will be mutually beneficial to both society and the individual.
The top winners from each region in the state competition are eligible to advance to the International Contest. A student from Parker, Colorado took first place in the International competition and received a four year scholarship to the Illinois Institute of Technology!
Click here for the Bridge Building main page.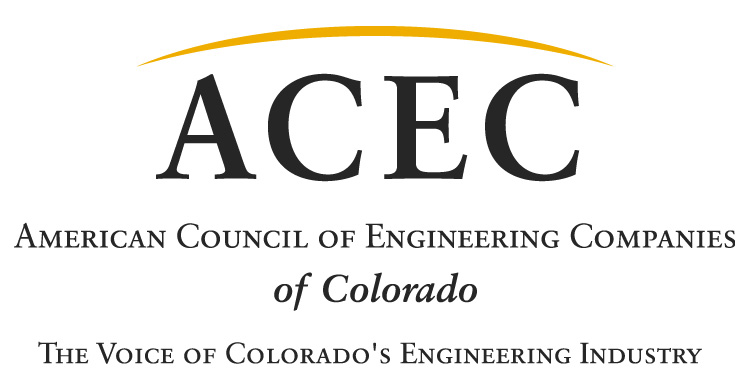 First Place Prizes of a $2,000 scholarship for the winning student who enrolls in an accredited Engineering program, courtesy of ACEC-Colorado and the National Society of Professional Engineers- Colorado Education Foundation.