2015 NSPE-CO Awards Nominations OPEN NOW
NSPE-CO is recognizing Excellence in the Colorado Engineering Community through the 2nd Annual NSPE-CO Awards.
Nominations for 2015 NSPE-CO Awards are now open for individual awards for Young Engineer of the Year, Project Manager of the Year, Manager of the Year, Woman Engineer of the Year and Educator of the Year as well as inaugural Project awards for Public Sector Project of the Year and Private Sector Project of the Year. All entries must be received by 4pm Friday June 5th to be considered. Awards will be presented Thursday, July 30th at Lone Tree Golf Course.
Get More details and access the nomination forms at the 2015 NSPE-CO Awards Page.
Our thanks to our Gold Sponsor
Our thanks to our Silver Sponsor:

Our thanks to our Print Sponsor:

And our thanks to our Bronze Sponsors:
Merrick & Company
Ramey Environmental Compliance
Behrent Engineering
Click here for details on how your company can sponsor the 2015 NSPE-CO Awards.
2014 NSPE-CO Awards Honorees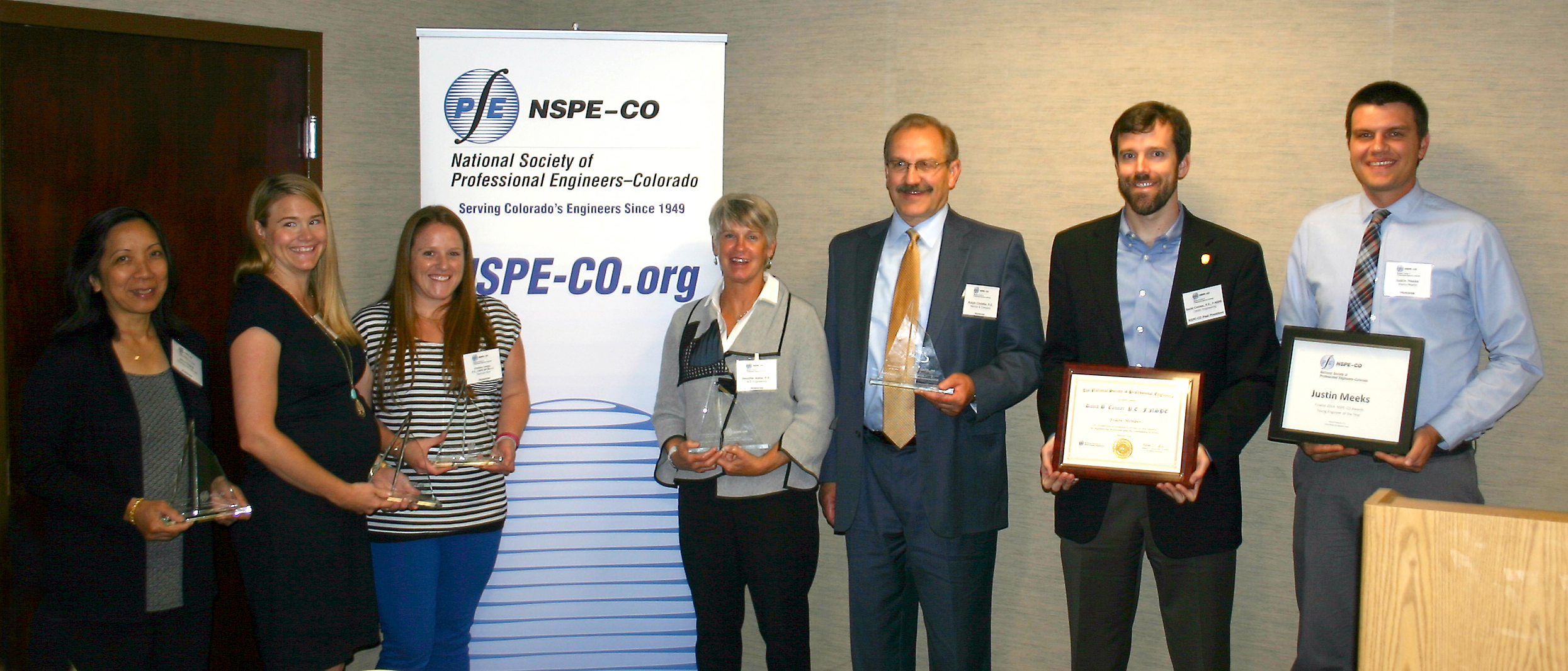 Congratulations to the individuals honored at the 2014 NSPE-CO Awards on July 31st, 2014:
From left to right:

2014 Educator of the Year: Silva Chang
2014 Project Manager of the Year: Jane Aschermann, P.E.
2014 Young Engineer of the Year: Chelsey Lange, P.E.
2014 Woman Engineer of the Year: Jennifer Aieta, P.E.
2014 Manager of the Year: Ralph W. Christie, Jr. , P.E.
NSPE Fellow David Conner, P.E., F-NSPE
Young Engineer of the Year Finalist: Justin Meeks
The Innovation Hyperlab Tour- Thursday April 23rd
Thursday, April 23rd at 6:30pm, NSPE-CO's Central Chapter Program is a tour of The Innovation Hyperlab, which answers the question "How Does That Work?"
Innovation Academy at the Aurora Public School's (APS) Hyperlab is a space refurbished and outfitted by Physics Associate Professor Randy Tagg, and funded in part by the UCD College of Liberal Arts and Sciences. As a part of APS's Pathways program, which seeks to connect students with specialized, real-world curriculum in order to train them for their professional futures, the Hyperlab is a dream come true for Tagg (who will be our tourguide), and a unique haven for students who would rather spend their weekends exploring STEM initiatives than sleeping in.
What makes the Hyperlab special is the line it walks between a 2,500-square-foot space for serious scientific inquiry and a place for students to open their minds to new possibilities. Everything in the lab finds a purpose. What may at first appear to be chaos-islands covered in construction and technological equipment, tables filled with a mish-mash of computers and academic posters under construction, shelves labeled w
ith things like "actuators" and a floor filled with robotics and recycled electronics-is actually a playground for young, scientifically-inclined minds. "It's like a mad scientist's garage," Tagg says, "but it's a lot less mad-scientist-looking now than it was."
The tour is free and open to all, but preregistration is required.You can register by clicking here.
Click here for an article about the lab.
Aurora Gateway High School Innovation Hyperlab, located at 1300 South Sable Boulevard, Aurora, CO 80012. MAP
One Professional Development Hour (PDH) is available for this tour.
Randy Tagg attended Caltech as an undergrad, receiving a BS in physics in 1977. While at Caltech, he worked at the Jet Propulsion Lab; this experience provided a model for the Innovation Hyperlab as a single location providing a wide range of technical resources. Randy received a Ph.D. in physics from MIT in 1984 and spent several years as a postdoc at the University of Texas in Austin in the Center for Nonlinear Dynamics. He has been on the faculty at CU Denver since 1990 with research focused on fluid physics and nonlinear dynamics, including applications to biophysics and biomedicine. Randy has had a longstanding interest in developing methods for improving students' practical abilities as a complement to their learning of concepts in science and engineering. To this end, work with Aurora Public Schools began in January 2011 and setup the current lab next to Gateway High School began in the summer of 2013.
For questions or to RSVP contact Rick Skaflen by email at rick.skaflen@behrent.com or call (303) 600-3146. Please RSVP by noon on Wednesday April 22nd.
You can also register on line by clicking here.
NSPE-CO Education Foundation Golf Tournament

(22nd Year of the NSPE-CO Golf Tournament and second year in partnership with ASCE Southern Colorado Branch)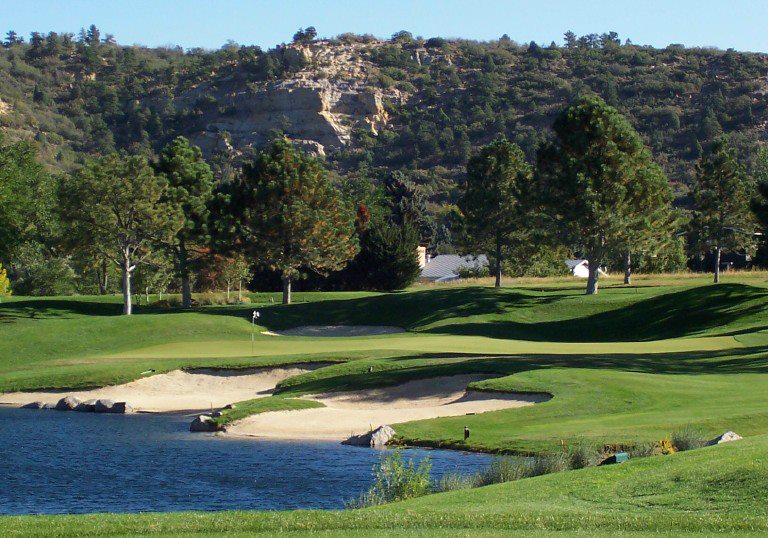 Monday, June 15th, 2015 • 7:30am check-in • 8:00am Shotgun start
Colorado Springs Country Club • 3333 Templeton Gap Road
Colorado Springs, CO 80907 • 719-634-8851

Registration deadline is June 8, 2015. Register Online at http://asce-scbranch.org OR Send REGISTRATION FORM with check
made payable to ASCE-Southern Colorado Branch to: Liz Staten c/o HDR Inc., 2060 Briargate Parkway, Ste 120,
Colorado Springs, CO 80920. For more info, contact Melanie Jollett at (719) 668-6538,
the NSPE-CO State Office at (303) 480-1160 or Golf Chair Balu Bhayani at (719) 598-1820.

The NSPE-CO Education Foundation is a 501(c)(3)
Organization, supporting engineering and scientific
educational activities of the National Society of
Professional Engineers—Colorado, including Bridge
Building for high school students, MATHCOUNTS
for junior high school students, and other
educational programs and scholarships.
Monday, June 15th, 2015 • 7:30am check-in • 8:00am Shotgun start
Colorado Springs Country Club • 3333 Templeton Gap Road
Colorado Springs, CO 80907 • 719-634-8851
Interested in speaking on an engineering-related topic?
NSPE-CO welcomes the opportunity to learn more about engineering-related projects going on within the state. If you have a suggestion or contact for a potential guest speaker, please submit your ideas to steve@nspe-co.org. NSPE-CO is open to any new ideas and appreciates your suggestions.
Express Yourself!
NSPE-CO offers eNews updates to members and welcomes article submissions from members. If you feel strongly about a current issue and would like to voice it, please submit your article to steve@nspe-co.org.
---
---
---
---