2014 NSPE-CO Awards Honorees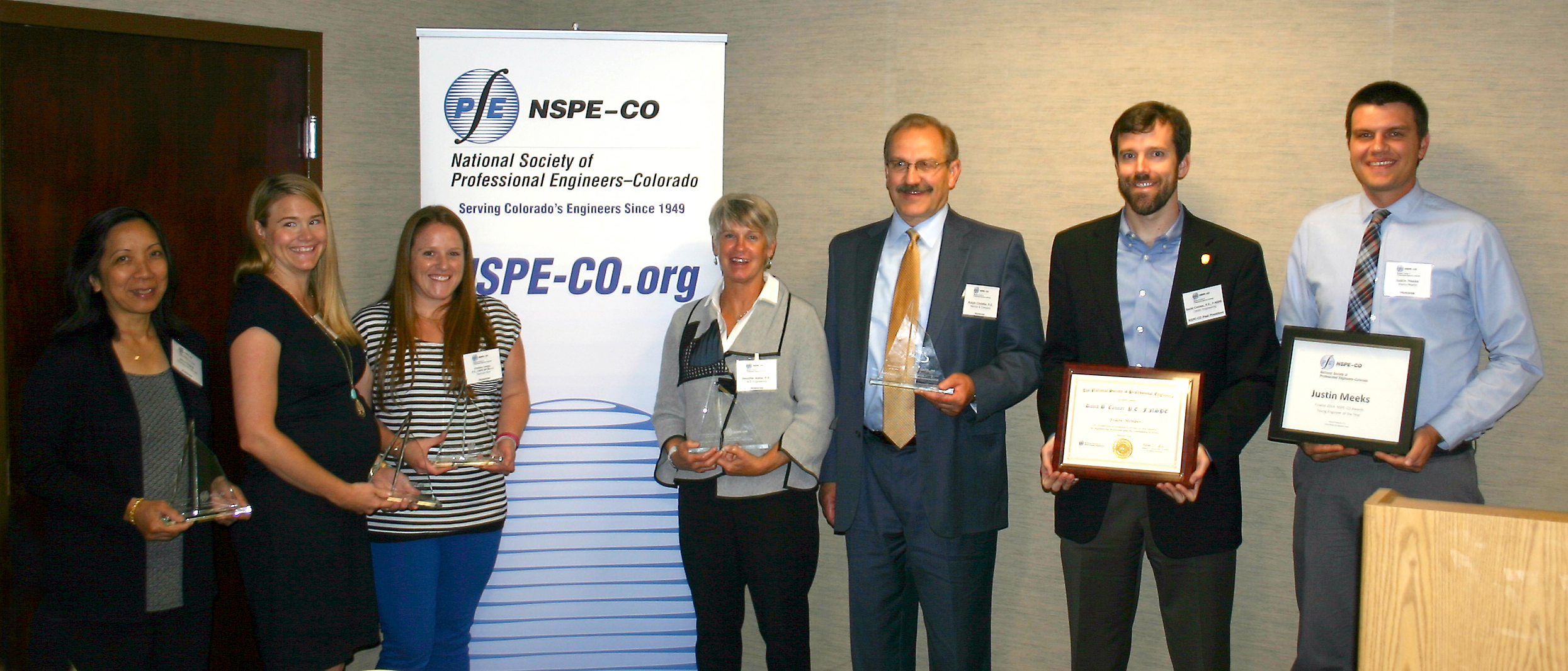 Congratulations to the individuals honored at the 2014 NSPE-CO Awards on July 31st, 2014:
From left to right:

2014 Educator of the Year: Silva Chang
2014 Project Manager of the Year: Jane Aschermann, P.E.
2014 Young Engineer of the Year: Chelsey Lange, P.E.
2014 Woman Engineer of the Year: Jennifer Aieta, P.E.
2014 Manager of the Year: Ralph W. Christie, Jr. , P.E.
NSPE Fellow David Conner, P.E., F-NSPE
Young Engineer of the Year Finalist: Justin Meeks
Central Chapter Dinner & Program
The September Central Chapter Dinner and Program on Thursday September 25th, 2014 will discuss the United Launch Alliance.
Formed in December 2006, United Launch Alliance (ULA) is a 50-50 joint venture owned by Lockheed Martin and The Boeing Company. ULA brings together two of the launch industry's most experienced and successful teams - Atlas and Delta - to provide reliable, cost-efficient space launch services for the U.S. government, U.S. government launch customers include the Department of Defense, NASA, the National Reconnaissance Office and other organizations.
Brooke Mosley, mechanical engineer in Human Launch Services (HLS), will give an overview of United Launch Alliance, review of this year's launches and upcoming launches, including the test flight of the Orion space vehicle.
This dinner is at the centrally located Holiday Inn Select Denver- Cherry Creek (455 South Colorado Blvd at Cherry Creek Drive North). Parking in the hotel's garage is free.
Happy Hour is in the Hotel Bar is from 6 to 7pm, with a dinner buffet at 7pm followed by speaker about 7:40pm. Cost is $30 per person and students are welcome at a special student discounted rate of just $5 for the dinner and program. Cash or check are accepted for payment at the event, or you can RSVP and pay by credit card by clicking here. One Professional Development Hour (PDH) is available for this presentation.
For questions or to RSVP contact Rick Skaflen by email at rick.skaflen@behrent.com or call (303) 600-3146. Please RSVP by noon on Tuesday, September 23rd.
You can also register on line by clicking here.
About the speaker:
Brooke joined ULA in 2007 shortly after the merger of Lockheed Martin and Boeing launch vehicle programs. She has taken an active role in Emergency Detection System development specifically for detection of propulsion system catastrophic failures under NASA's Commercial Crew Integrated Capability (CCiCAP) initiative.
Prior to joining HLS, Brooke worked in the engines and motors department on the RD-180 liquid rocket engine program. Her day to day activities included working with Russian international partners in technical evaluations and procurement of engines. In this role she ensured proper factory integration which included development of integrated test hardware.
Brooke earned a Bachelor of Science in Aerospace Engineering from the University of California San Diego in 2005. She recently completed her Master of Science in Mechanical Engineering with an emphasis in thermal fluid sciences at the University of Colorado, Denver.
NSPE-CO 2014-15 Officer Election
Charles Piersall III, P.E. is 2014-15 State President, having been elected as President-Elect in 2013. Congratulations to the other elected officers for 2014-15:
Secretary/Treasurer: Patrick Roberts, P.E. Patrick has served as the Central Chapter Treasurer in 2013-14, and recently stepped in to fill the State Secretary/Treasurer role when the position was vacated mid-term. Patrick works for Martin/Martin.
National Director House of Delegates: Mark Weidhaas, P.E., F-NSPE, who has served as the House of Delegates alternate. The National Director House of Delegates represents Colorado at the national NSPE governance level.
Alternate National Director, House of Delegataes: Ben Railsback, P.E., M.S. In 2013-14 Ben served as Central Chapter Secretary. Ben is Director of Mechanical Engineering for Knott Laboratory.
Write in candidates for Vice President/President elect are being contacted and an announcement will be made soon.
Remembering NSPE's Polly Collins
Polly Collins, who for over 25 years worked in the NSPE national office in Alexandria Virginia, passed away on Thursday August 14th. Until her retirement last year, Polly was director of meetings for NSPE. She planned and carried out the NSPE annual Leadership meetings and other events. Burial will be at Arlington National Cemetery. Donations may be made to the American Cancer Society in Polly's memory. Our thoughts are with her family and her friends and colleagues in the national office.
In lieu of flowers, contributions may be made to the
Thursday, August 21 from 6 to 8 p.m. and where services will be held on Friday, August 22 at 10 a.m. Interment will be held at Arlington National Cemetery at a later date. In lieu of flowers, contributions may be made to the
Thursday, August 21 from 6 to 8 p.m. and where services will be held on Friday, August 22 at 10 a.m. Interment will be held at Arlington National Cemetery at a later date. In lieu of flowers, contributions may be made to the
Interested in speaking on an engineering-related topic?
NSPE-CO welcomes the opportunity to learn more about engineering-related projects going on within the state. If you have a suggestion or contact for a potential guest speaker, please submit your ideas to steve@nspe-co.org. NSPE-CO is open to any new ideas and appreciates your suggestions.
Express Yourself!
NSPE-CO offers eNews updates to members and welcomes article submissions from members. If you feel strongly about a current issue and would like to voice it, please submit your article to steve@nspe-co.org.
---
---
---
---