2015 NSPE-CO Awards Sponsorships available now.
Click here for details on how your company can sponsor the 2015 NSPE-CO Awards. Entry for the awards will open in early 2015, and will be presented July 30, 2015.
2014 NSPE-CO Awards Honorees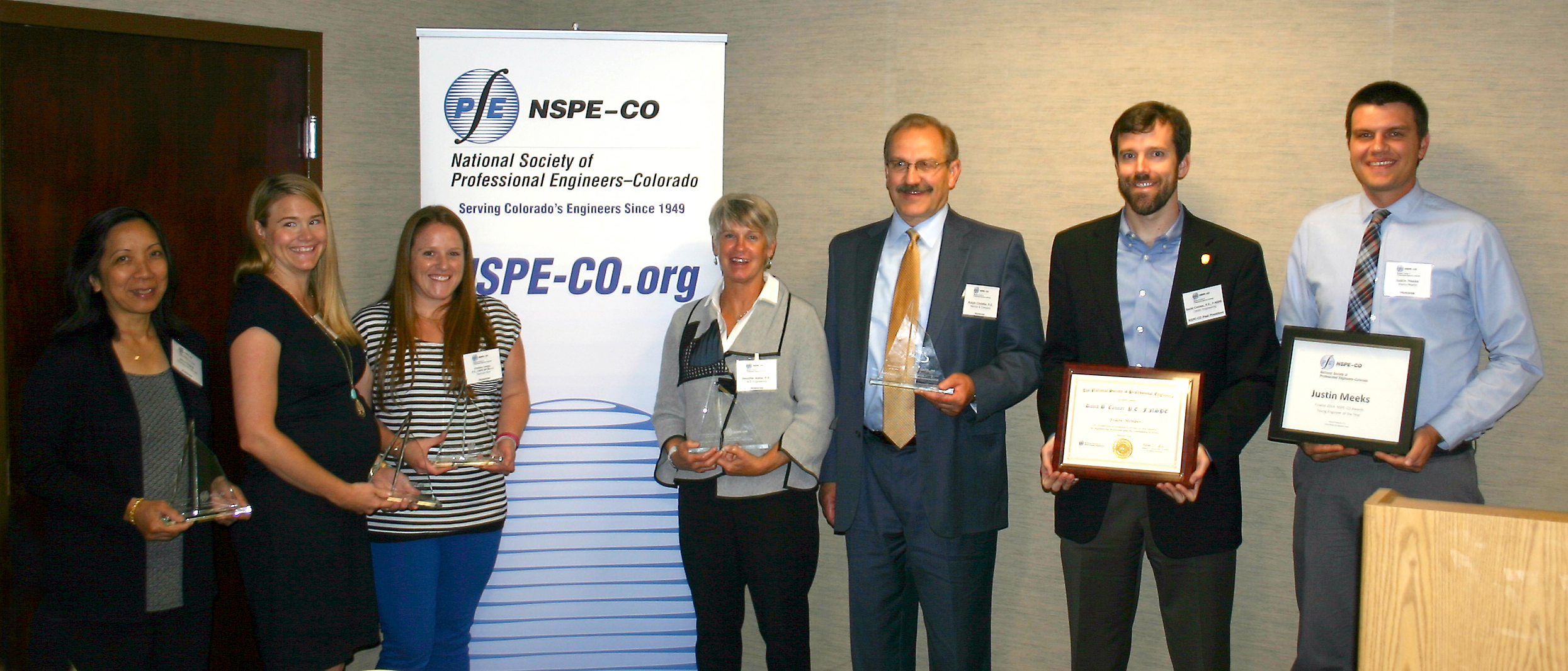 Congratulations to the individuals honored at the 2014 NSPE-CO Awards on July 31st, 2014:
From left to right:

2014 Educator of the Year: Silva Chang
2014 Project Manager of the Year: Jane Aschermann, P.E.
2014 Young Engineer of the Year: Chelsey Lange, P.E.
2014 Woman Engineer of the Year: Jennifer Aieta, P.E.
2014 Manager of the Year: Ralph W. Christie, Jr. , P.E.
NSPE Fellow David Conner, P.E., F-NSPE
Young Engineer of the Year Finalist: Justin Meeks
NSPE-CO 2014-15 Officer Election
Charles Piersall III, P.E. is 2014-15 State President, having been elected as President-Elect in 2013. Congratulations to the other elected officers for 2014-15:
Secretary/Treasurer: Patrick Roberts, P.E. Patrick has served as the Central Chapter Treasurer in 2013-14, and recently stepped in to fill the State Secretary/Treasurer role when the position was vacated mid-term. Patrick works for Martin/Martin.
National Director House of Delegates: Mark Weidhaas, P.E., F-NSPE, who has served as the House of Delegates alternate. The National Director House of Delegates represents Colorado at the national NSPE governance level.
Alternate National Director, House of Delegataes: Ben Railsback, P.E., M.S. In 2013-14 Ben served as Central Chapter Secretary. Ben is Director of Mechanical Engineering for Knott Laboratory.
Interested in speaking on an engineering-related topic?
NSPE-CO welcomes the opportunity to learn more about engineering-related projects going on within the state. If you have a suggestion or contact for a potential guest speaker, please submit your ideas to steve@nspe-co.org. NSPE-CO is open to any new ideas and appreciates your suggestions.
Express Yourself!
NSPE-CO offers eNews updates to members and welcomes article submissions from members. If you feel strongly about a current issue and would like to voice it, please submit your article to steve@nspe-co.org.
---
---
---
---