The October Central Chapter Dinner and Program on Thursday October 23rd, 2014 will discuss how to find work overseas and how to expand your work overseas.
Is your small business ready to go global? It may be an easier step than you think. Advances in technology can make worldwide commerce achievable for many small businesses, depending on the goods or services you offer.
If you're ready to explore the possibilities and challenges of exporting, U.S. Export Assistance Centers provide the help you need. These centers are located in major metropolitan areas throughout the United States.
Each U.S. Export Assistance Center is staffed by professionals from the SBA, the U.S. Department of Commerce, the U.S. Export-Import Bank, and other public and private organizations. Together, their mission is to provide the help you need to compete in today's global marketplace. Your local U.S. Export Assistance Center is your one-stop shop, designed to provide export assistance for your small- or medium-sized business.
Paul Bergman is the Director of the U. S. Export Assistance Center in Denver serving the States of Colorado & Wyoming, and he'll be our speaker on Thursday, October 23rd.
Happy hour is from 6-7pm, dinner at 7pm and the program starts at about 7:40pm.
This dinner is at the centrally located Holiday Inn Select Denver- Cherry Creek (455 South Colorado Blvd at Cherry Creek Drive North). Parking in the hotel's garage is free.
H
appy Hour is in the Hotel Bar is from 6 to 7pm, with a dinner buffet at 7pm followed by speaker about 7:40pm. Cost is $30 per person and students are welcome at a special student discounted rate of just $5 for the dinner and program. Cash or check are accepted for payment at the event, or you can RSVP and pay by credit card by clicking here.
O
ne Professional Development Hour (PDH) is available for this presentation.
For questions or to RSVP contact Rick Skaflen by email at
rick.skaflen@behrent.com
or call (303) 600-3146. Please RSVP by noon on Tuesday, October 21st.
You can also register on line by clicking here.
2014 NSPE-CO Awards Honorees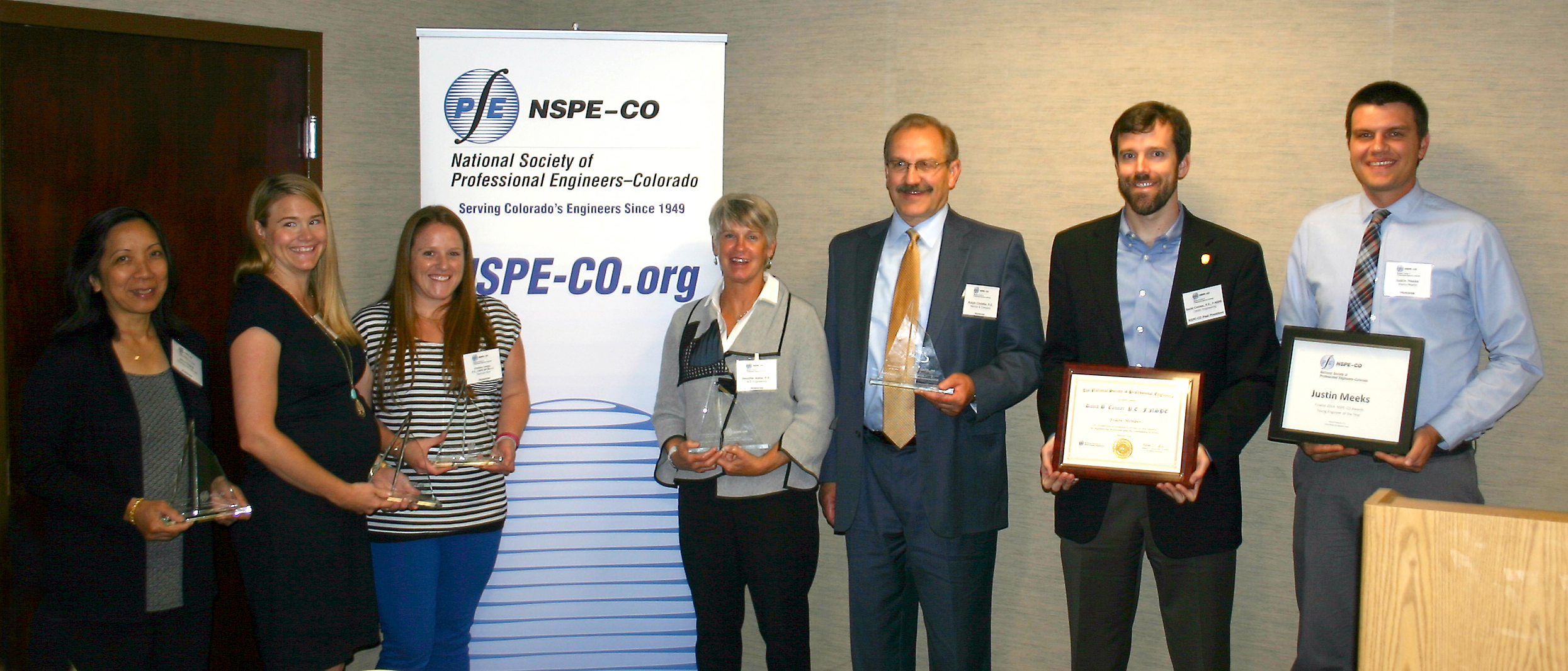 Congratulations to the individuals honored at the 2014 NSPE-CO Awards on July 31st, 2014:
From left to right:

2014 Educator of the Year: Silva Chang
2014 Project Manager of the Year: Jane Aschermann, P.E.
2014 Young Engineer of the Year: Chelsey Lange, P.E.
2014 Woman Engineer of the Year: Jennifer Aieta, P.E.
2014 Manager of the Year: Ralph W. Christie, Jr. , P.E.
NSPE Fellow David Conner, P.E., F-NSPE
Young Engineer of the Year Finalist: Justin Meeks
NSPE-CO 2014-15 Officer Election
Charles Piersall III, P.E. is 2014-15 State President, having been elected as President-Elect in 2013. Congratulations to the other elected officers for 2014-15:
Secretary/Treasurer: Patrick Roberts, P.E. Patrick has served as the Central Chapter Treasurer in 2013-14, and recently stepped in to fill the State Secretary/Treasurer role when the position was vacated mid-term. Patrick works for Martin/Martin.
National Director House of Delegates: Mark Weidhaas, P.E., F-NSPE, who has served as the House of Delegates alternate. The National Director House of Delegates represents Colorado at the national NSPE governance level.
Alternate National Director, House of Delegataes: Ben Railsback, P.E., M.S. In 2013-14 Ben served as Central Chapter Secretary. Ben is Director of Mechanical Engineering for Knott Laboratory.
Interested in speaking on an engineering-related topic?
NSPE-CO welcomes the opportunity to learn more about engineering-related projects going on within the state. If you have a suggestion or contact for a potential guest speaker, please submit your ideas to steve@nspe-co.org. NSPE-CO is open to any new ideas and appreciates your suggestions.
Express Yourself!
NSPE-CO offers eNews updates to members and welcomes article submissions from members. If you feel strongly about a current issue and would like to voice it, please submit your article to steve@nspe-co.org.
---
---
---
---