P.E. Licensure Renewal Now Open
Renewals for Architects, Professional Engineers, and Surveyors licenses expiring October 31, 2015 is now open.
Licensees can access the renewal site at the State Board of Licensure for Architects, Professional Engineers and Professional Land Surveyors homepage.
Southern Colorado Manufacturing Expo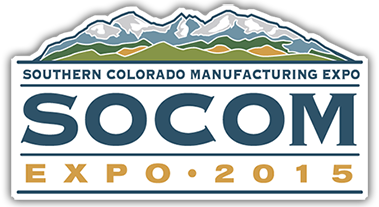 Who Makes It?
How's It Made?
October 6 & 7 9:00am- 2:00pm
FREE ADMISSION
Mortgage Solutions Financial Expo Center
3650 N. Nevada Ave
Colorado Springs, CO
Central Chapter October Dinner & Program
The Engineering of Orthopaedic Implants
Thursday, October 22 7pm (6pm Happy Hour)
Holiday Inn Cherry Creek
Everyone knows someone with an artificial knee or hip. Each year in the US, more than 750,000 people receive a knee or hip replacement and these numbers are on the rise. For patients with pain related to osteoarthritis, joint replacement substitutes the damaged articular cartilage with engineered metal and polyethylene implants. Recent recalls of hip resurfacing implants have been reported in the news and highlight the need to assess the robustness of implants -- how sensitive their functioning is to changes in alignment. This presentation will discuss current trends in the field and ongoing research in DU's Center for Orthopaedic Biomechanics, including anatomic variation in the population, approaches to design implants to accommodate patient and alignment variability, and the recent acquisition of a high-speed stereo radiography system to accurately measure the motions of natural and implanted joints.
Presenter: Peter J Laz, PhD
ProfessorCenter for Orthopaedic Biomechanics
Mechanical and Materials Engineering
University of Denver
Peter Laz is a Professor in Mechanical and Materials Engineering. He has been an investigator on industry, federal (NSF, NIH) and foundation grants and authored 35 journal papers and 100 conference publications. He also received the Best Teacher Award for DU's Ritchie School of Engineering and Computer Science in 2010. He received his Bachelor's degree in mechanical engineering from Duke University and his MS and PhD degrees in mechanical engineering from Purdue University. He was a Fulbright scholar in Germany and also worked at Southwest Research Institute before joining the faculty at DU in 2001.
2015 NSPE-CO Awards Honorees
NSPE-CO recognized Excellence in the Colorado Engineering Community at the 2nd Annual NSPE-CO Awards.
The 2015 NSPE-CO Awards recognized:
Lisa Troung (Alliant Engineering) -Young Engineer of the Year
Kristi Evans, P.E. (US Bureau of Reclamation) -Project Manager of the Year
Richard Ziernicki, P.E. (Knott Laboratory LLC) - Manager of the Year
Connie King, P.E., Esq. - Woman Engineer of the Year
Casey Bartels (Rampart High School) - Educator of the Year
Martin/Martin Inc. Colorado State Capitol Dome Restotation - Project of the Year
Our thanks to our Gold Sponsor
Our thanks to our Silver Sponsor:

Our thanks to our Print Sponsor:

And our thanks to our Bronze Sponsors:
Merrick & Company
Ramey Environmental Compliance
Behrent Engineering
The Law Office of James Nelson, Esq.
Contact the NSPE-CO state office at (303) 480-1160 to get information on how your company can sponsor the 2016 NSPE-CO Awards.
Interested in speaking on an engineering-related topic?
NSPE-CO welcomes the opportunity to learn more about engineering-related projects going on within the state. If you have a suggestion or contact for a potential guest speaker, please submit your ideas to steve@nspe-co.org. NSPE-CO is open to any new ideas and appreciates your suggestions.
Express Yourself!
NSPE-CO offers eNews updates to members and welcomes article submissions from members. If you feel strongly about a current issue and would like to voice it, please submit your article to steve@nspe-co.org.
---
---
---
---