Remembering Roger Jesser, NSPE-F, P.E.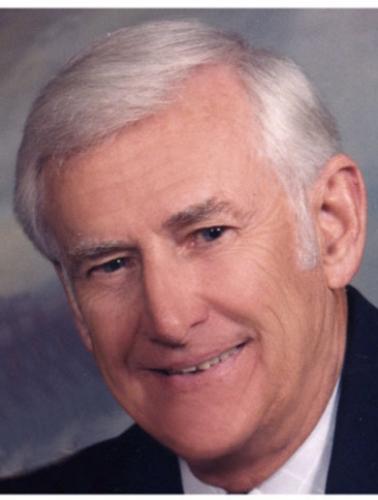 We have received word that Roger Jesser, NSPE-F, P.E, who was Colorado State President 1984-85 and was later involved at the national level, passed away Friday, February 21, 2014. Roger was born March 8, 1926 to Frances and Frank Jesser of Ft. Collins, Colorado. He and his wife, Joanna, were high school sweethearts in Ft. Collins. He served in the Army Air Corps during World War II. After the war, Roger graduated from Colorado State University as a civil engineer. He worked for the US Bureau of Reclamation and the Soil Conservation Service before being hired by Adolph Coors Company in Golden, Colorado. Roger enjoyed a long and successful career with Coors before retiring as a Vice President. He was active in the National Society of Professional Engineers and served a term as the Colorado state President. A memorial service is planned in Colorado this summer, and we will share details when they are announced. The Denver Post obituary is at http://www.legacy.com/obituaries/denverpost/obituary.aspx?pid=169903411.

NSPE-CO sends our sympathy and best wishes to Roger's family. We are thankful he was a part of NSPE and the Colorado state society.

Colorado Engineering Summit a success!
NSPE-CO Pikes Peak Chapter along with representatives of the state office participated in the Colorado Engineering Summit at the Freedom Financial Events Center in Colorado Springs. The event allowed hundreds of middle school, high school and college students to learn more about engineering as a profession Students interacted with NSPE-CO along with other professional associations and many engineering companies.
Pictured is NSPE-CO Pikes Peak Chapter President, and NSPE-CO President-Elect, Chuck Piersall III, P.E. speaking with some Summit participants.



March Dinner Meeting on 3D Printing
Thursday, March 27th, the Central Chapter presents a program open to all featuring a presentation on 3D Printing.
The presentation will be focused on Stratasys 3D printing technology and how organizations currently are leveraging it today.
Presenter Dave Scarano is a Business Development professional with 15+ years of experience working with organizations to improve engineering and manufacturing processes through advanced technology. One of his specialties and passions is 3D Printing.
Presenter Tim Crennen is a Mechanical Engineer with a passion for rapid prototyping. He has been working hands on with an array of the different rapid prototyping technologies for over 5 years. Having worked with people from every field which utilize state of the art technologies he has acquired an in-depth knowledge of the rapid prototyping industry and where it has been and where it is heading in the future.
All are welcome at this program, which should be of interest to both Engineers and others as well
This dinner is at the centrally located Holiday Inn Select Denver- Cherry Creek (455 South Colorado Blvd at Cherry Creek Drive North). Parking in the hotel's garage is free.
Happy Hour is in the Hotel Bar is from 6 to 7pm, with a dinner buffet at 7pm followed by speaker about 7:40pm. Cost is $25 per person and students are welcome at a special student discounted rate of just $5 for the dinner and program. Cash or check are accepted for payment.
One Professional Development Hour (PDH) is available for this presentation.
For questions or to RSVP contact Rick Skaflen by email at rick.skaflen@behrent.com or call (303) 600-3146. Please RSVP by noon on Tuesday, March 25th.
Interested in speaking on an engineering-related topic?
NSPE-CO welcomes the opportunity to learn more about engineering-related projects going on within the state. If you have a suggestion or contact for a potential guest speaker, please submit your ideas to steve@nspe-co.org. NSPE-CO is open to any new ideas and appreciates your suggestions.
Express Yourself!
NSPE-CO offers eNews updates to members and welcomes article submissions from members. If you feel strongly about a current issue and would like to voice it, please submit your article to steve@nspe-co.org.
AES Legislation Signed Into Law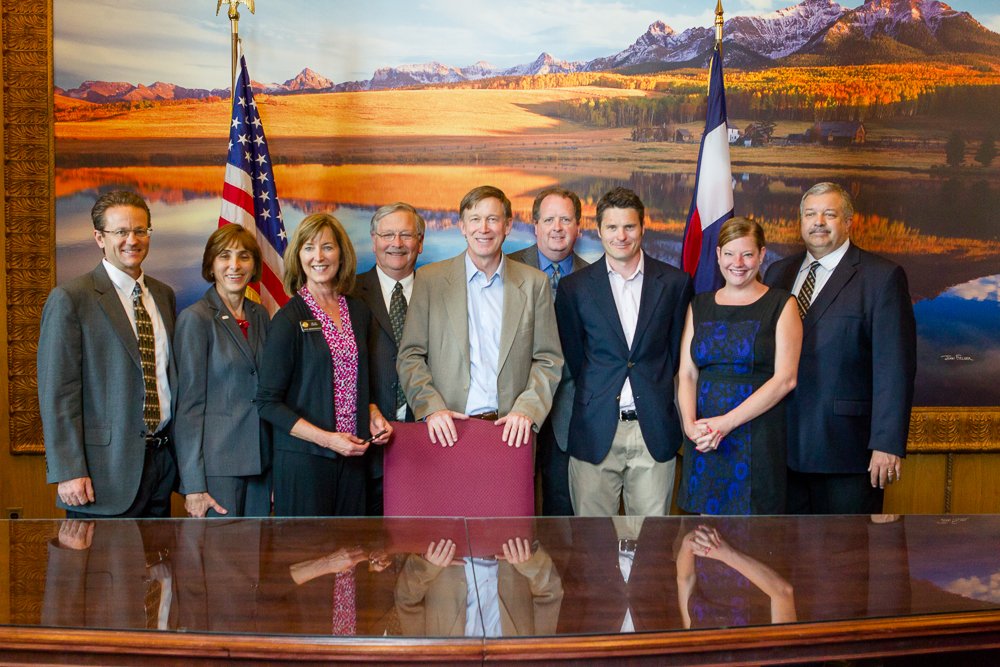 2012-13 NSPE-CO President Charlie Rossman, P.E., and Executive Director Steve Conklin attended the signing ceremony for SB 13-161, BILL FOR AN ACT CONCERNING CONTINUATION OF THE STATE BOARD FOR LICENSURE OF ARCHITECTS, PROFESSIONAL ENGINEERS, AND PROFESSIONAL LAND SURVEYORS, AND, IN CONNECTION THEREWITH,IMPLEMENTING THE RECOMMENDATIONS OF THE 2012 SUNSET REPORT BY THE DEPARTMENT OF REGULATORY AGENCIES, on behalf of NSPE-CO. Throughout the Sunset process, your involvement was very important as NSPE-CO worked to represent the interests of Professional Engineers in service to the health, safety and welfare of the public.
Special thanks to David Hughes, P.E. and Noelle Cochran, P.E., FNSPE, for their work on behalf of NSPE-CO.
---
---
---
---